'Liquid Gold' runs thick inside the centuries-old trees of North Africa; an elixir carrying healing and restorative properties with the power to create silky, shiny hair worthy of an Arabian princess.
Just what is this golden elixir of youth?
Argan oil, AKA, Princess Jasmine's ultimate hair care secret
Rich in fatty acids and powerful antioxidants like vitamin E, argan oil helps to revitalize, moisturize and protect hair, creating luxuriously smooth locks, with a shine that just won't quit.
In our opinion, it's the reason Princess Jasmine flaunted such gorgeously shiny hair! ;)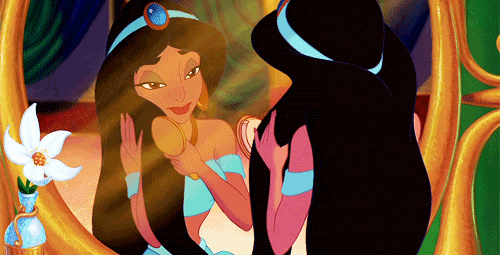 Is she thinking about Aladdin? Nope. More likely, she's in love with her wonderfully soft hair!
What is argan oil?
Argan oil comes from crushing up the kernels found inside the nut of the argan fruit, which grows on argan trees native to Morocco.
During July and August, argan fruit falls from the trees which are then collected and dried. After being dried in the open air, the pulp is removed, the extremely hard nut is cracked open, and out will pop (up to three) almond-shaped argan kernels ready for crushing.
The resulting oil is a light golden brown color carrying with it all the secrets for soft, silky hair.
Argan oil hair benefits
The key to rejuvenating and replenishing hair, argan oil works to:
Restore elasticity and shine

Moisturize and soften

Reduce breakage and repair split ends

Prevent dryness and tame frizz

Neutralize free radicals for a healthier scalp
Argan oil: a natural deep conditioner
Argan oil's high concentration of fatty acids, specifically, oleic acid and linoleic acid, lubricate the hair shaft, making it a superb deep conditioning natural hair mask.
Use

Hair Love's Nourish + Repair Serum

as an overnight hair mask to restore shine, tame frizz and promote healthy new hair growth! Psst – You can also use it on your skin for anti-ageing benefits!
Argan oil: promoting a healthier scalp
With its powerful antioxidant and anti-inflammatory benefits, argan oil helps fight against common skin ailments such as psoriasis and seborrheic dermatitis (dandruff). And, with argan oil's high concentration of vitamin E, it's showing promise as an effective hair growth remedy for those struggling with hair loss. 
How to apply argan oil on your hair
Drop a quarter-sized amount of argan oil into your palm, then rub your hands together to warm the oil. 
On dry or damp hair, work the oil from the ends up and through your hair until the oil has dissolved from your hands. It only takes a few seconds!
TIP: If your hair is naturally oily, apply argan oil ONLY to the ends of your hair to avoid a greasy-root look – or, try using a DIY dry shampoo!
How often to use argan oil on your hair
To maintain that gloriously silky look and feel, 
Use argan oil as a leave-in conditioner 2 – 3 times per week

Apply an overnight argan oil hair mask once per week
What to look for in quality argan oil
To reap the full benefits of argan oil, it's important to look for the highest quality you can find. There are plenty of imitators out there, so here's what you should look for in a quality argan oil:
100% pure argan oil with no other ingredients

Labelled for cosmetic use only

Certified by the USDA or other reputable quality control source/producer

A light golden brown, nearly odorless oil (if it's a culinary argan oil, it should have a slightly nutty smell)

Sold in a dark glass bottle (to protect the oil from light damage)

A higher price (if it's below $15, chances are it's been mixed with sunflower oil or another cheaper oil)
--> Looking for 100% pure argan oil? Hair Love has you covered with our quality-sourced 'Liquid Gold', certified by the USDA. And, because we know you love saving
almost
as much as you love your hair,
here's a bundle offer just for you!
Photo by
Christin Hume
on
Unsplash