There's a reason Ariel's hair is so glorious.

It's not the fork-comb she uses to untangle her strands. It's not the ocean water her hair is constantly submerged in… nor is it because the cartoonist drew it to look that way…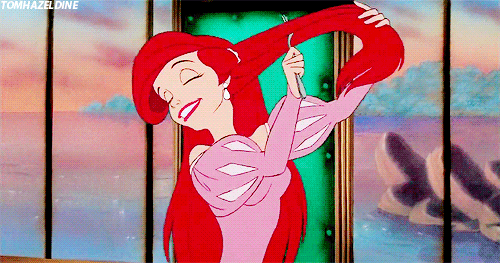 We think Ariel's hair is fabulous-looking because she's been snacking on spirulina: the blue-green algae packed with hair-strengthening nutrients.
Why is spirulina so good for you?
All kidding aside, spirulina is truly a powerhouse of the supplements world. An algae that grows in both fresh and saltwater, cultures around the world have used spirulina for centuries because of its dense nutrient content.

It contains:
Antioxidants (specifically 'phycocyanin', which also acts as an anti-inflammatory, and gives spirulina its vibrant blue-green color)
Protein (comparable to the amount found in eggs)
Essential amino acids and fatty acids (omega-6 and omega-3 fatty acids)
Vitamins (B-vitamins: thiamine, riboflavin, niacin)
Minerals (Copper, iron, manganese, zinc, and more)
Spirulina has been touted to help with everything from allergy relief and improving muscle strength and endurance, to lowering blood sugar levels and even preventing certain forms of cancer.
Spirulina for mermaid-worthy hair
So, spirulina is obviously a super-food that punches well above its weight, but hair isn't mentioned anywhere in that veritable ocean of benefits.

But just like the child's song echoes: 'the wrist bone's connected to the arm bone' – the holistic benefits of spirulina connect to hair-health in more ways than you can shake a fin at!

When you feed your body nutritious foods and supplements, your body is able to build stronger, healthier cells – including, and especially for, your hair!
How spirulina can help your hair
Protect: Those powerful antioxidants found in spirulina can help balance out free radicals, shielding your hair from oxidative stressors, which can lead to hair loss.
Strengthen: Spirulina has trace amounts of zinc, a mineral that promotes proper cell structure formation, which means more structurally-solid hair follicles, too.
Grow: Spirulina contains iron and a substantial amount of protein, which are both necessary for growing strong, healthy hair.
Spirulina recipes
So you know the benefits of chowing down on spirulina, and you're ready to get it into your diet. But, if you're like us, you probably don't know too many spirulina-heavy recipes off the top of your head. 😉

Don't worry, we've got you.

Below we've gathered some delicious recipes that feature the healing powers of spirulina.
*If you've never tried spirulina before, be sure to consult with your family doctor to see if it's a good option for you.
Spirulina Smoothie from Detoxinista
This green-powered smoothie will start your day off with a punch! It's simple, packed with leafy greens like spinach and super-hydrating cucumbers, with the added sweet punch of dates. Although, we might switch out the 1 cup of water with 1 cup of kefir for a probiotic boost.

See the full recipe here!
Spirulina Latte from Foodaciously
Warm yourself from the inside out with this frothy latte, sweetened with maple syrup and spiced with cinnamon. It's funky green color reminds us of a matcha latte, which has us thinking of adding some matcha powder as well, for another boost of antioxidants!

See the full recipe here!
Spirulina Energy Balls from Del's Cooking Twist
These energy balls will keep you powered throughout the day! The richness of dates, combined with the zing of ginger will keep your tastebuds satisfied too! Plus that dark chocolate drizzle is the perfect final touch to give it a splash of sweetness – and character.

See the full recipe here!

–> For more healthy supplements to grow stronger, healthier hair, try Hair Love's Keratin and Collagen Complex!


Feature photo by FOODISM360 on Unsplash